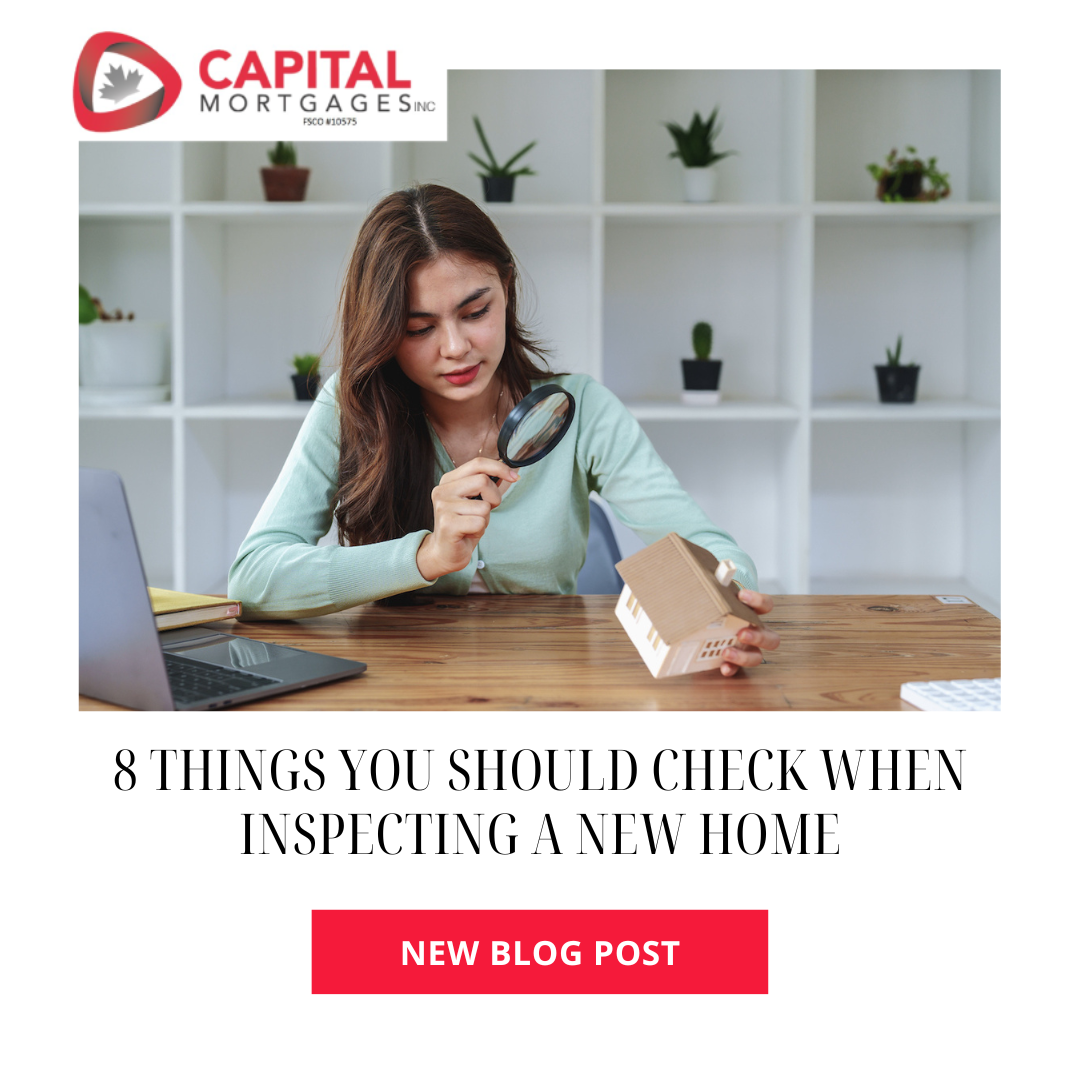 30 Oct

8 Things You Should Check When Inspecting a New Home

When buying a new home, you'll want to check for red flags that could indicate future problems. Your inspection is critical to finding anything that might be hidden or overlooked by less diligent buyers. However, with new technologies and home design strategies being used more frequently, the modern inspection process differs from what buyers have come to expect in previous years. Today's inspectors are trained professionals who understand how various factors impact the home from both inside and out. No matter your inspector, there are some things you should check. This will help you make an informed decision about any issues that may need to be addressed before moving forward with your purchase. Check out these 8 things you should check when inspecting a new home…
Licensed and Certified Inspectors
All states require that home inspectors be licensed, but this is not a requirement for home builders or appraisers. A licensed inspector is held to a higher standard than an unlicensed person because they have demonstrated a commitment to quality and integrity in the profession. In addition, the inspector's insurance company may require that he or she have a state license to inspect your home. For example, in Texas, an inspector must have a license to inspect new homes under construction, additions, or repairs that exceed $5,000. A certified inspector will have undergone extensive training, including instruction on the building codes and safety issues that affect the home and its inhabitants.
The Exterior of the Home
The exterior of the home can indicate a lot about its condition and its maintenance level. It can also give you insight into how well it was built. Some things to look for include:
– Curb appeal: A well-constructed home will have a good curb appeal, while a shoddily built one will not. Check for things like uneven levels, poor attention to detail, and other things that should be fixed.
– Excessive wear: If the siding is peeling, the windows are cracked, or the paint is old and cracked, the home may be due for replacement.
– Structural integrity: Make sure the walls are plumb, the roof is not sagging, and there are no signs of structural damage.
The Roof
Asphalt shingles can last up to 20 years. Wood shingles last about 15 years, depending on the quality and maintenance. Next, inspect the roof's condition, including the type of roofing and any signs of damage. If the roof is nearing the end of its life span or there are other concerns, it may be a good time to negotiate with the seller to replace it.
Windows and Doors
The windows and doors can tell you a lot about how well the home is insulated. If they are not up to modern standards, they could be a significant energy loss. Check the following:
– Are the windows and doors level? Evenly spaced? In good condition? If not, they will need to be replaced, which could be a costly project.
– What type of windows do you have? If you have older single-pane windows, you will likely want to replace them with newer, more energy-efficient models.
– Are the doors and frames insulated? What type of insulation do they have? Again, this could be an energy loss.
The Foundation
The biggest potential issue with the foundation is a structural defect that is not evident on the surface. Check for cracking and other signs of foundation issues.
– Are you on a hill or a slope? If that could affect the foundation, it could indicate a problem.
– What is the soil like? If it is loose soil, it could indicate a problem.
– Are there any indicators that the water table is close to the surface? If so, there could be a problem.
Interior Walls and Ceilings
While you can't see the foundation, you can see inside walls. Check for the following to get an idea of the home's condition and maintenance level.
– Do the walls have cracks? Are they uneven? Are they plumb? If so, you may need to have them repaired or repainted.
– Are the walls consistent in their finish? If not, it could indicate repairs that were done badly.
– How are the electrical outlets and light switches mounted? Are they level? If not, that could indicate a need to repaint.
Electrical Systems
The electrical system is the heart of the home. If there are excessive or loose wires, it indicates a potential problem. Check the following items:
– Is the electrical panel mounted level? If not, it could draw in pests and cause a potential fire hazard.
– Are there any loose wires? If so, that could indicate a problem.
– Are the breakers properly sized? Excessively large circuit breakers could indicate a problem.
The Water Heating System
The water heating system is another important component of the home. You can check the following:
– Is the water heater mounted level? If not, it can cause damage to the unit.
– Is the water pressure in the house consistent? If not, it could indicate a problem.
– Are there any loose connections? Loose connections can cause a variety of issues, including decreased flow.
Summary
These are just a few things you can check when inspecting a new home. It will help you make an informed decision about any issues that may need to be addressed before moving forward with your purchase.
We here at Capital Mortgages in Ottawa look forward to assisting you with all your Ottawa mortgage refinancing needs. Contact us today by calling us at: 613-228-3888 or email us direct at: info@capitalmortgages.com
You can use these links to APPLY NOW or CONTACT US.
You can also click here.