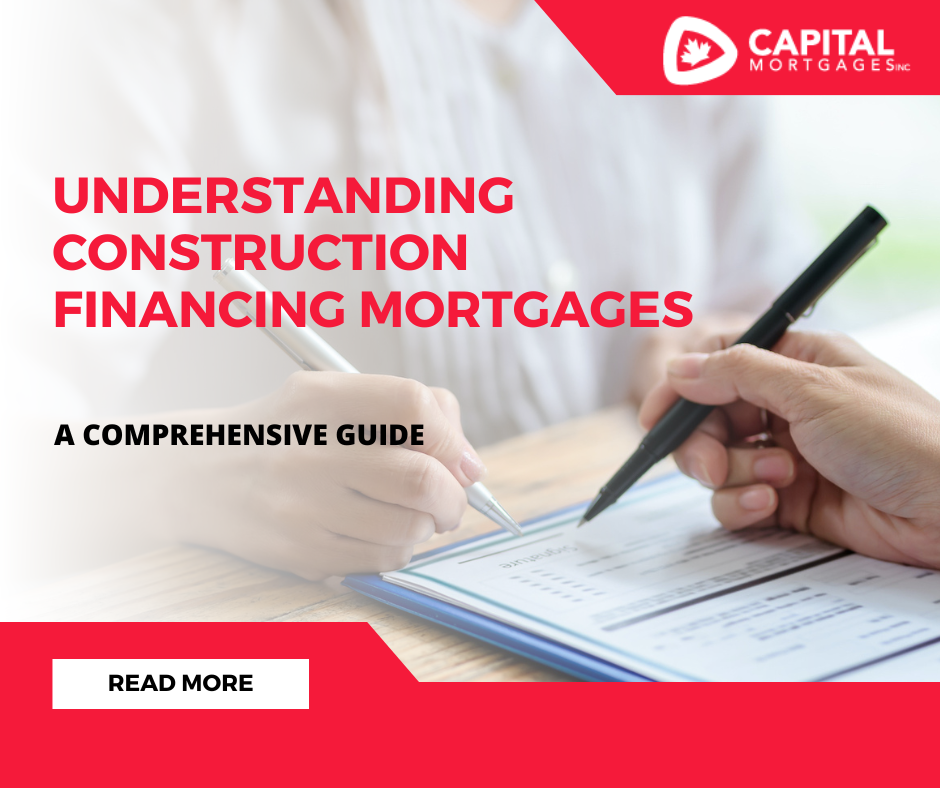 15 Jun

Understanding Construction Financing Mortgages in Canada: A Comprehensive Guide

Construction financing mortgages are an essential tool for homeowners and investors looking to build new homes or renovate existing ones. In Canada, construction financing mortgages are becoming increasingly popular, allowing individuals to build their dream homes or develop real estate projects. In this blog, we will provide a comprehensive guide to construction financing mortgages in Canada, covering everything from eligibility criteria to the application process. 
1.What is a Construction Financing Mortgage?
A construction financing mortgage is a type of mortgage that provides financing for the construction or renovation of a property. This type of mortgage is typically used by individuals or investors who are building a new home or developing a real estate project.

 
2.Eligibility Criteria 
Credit Score: Applicants for construction financing mortgages must have a good credit score to qualify for the mortgage. 

 

Income: Lenders will assess the income and employment status of applicants to ensure they have the financial capacity to repay the loan. 

 

Down Payment: Applicants must be able to provide a significant down payment, typically ranging from 20-25% of the total project cost. 

 

Property Appraisal: Lenders will require a property appraisal to ensure the value of the property being built or renovated is adequate to secure the loan.

 
3.Benefits
Customization: Construction financing mortgages allow homeowners to build their dream homes or investors to develop real estate projects according to their specifications. 

 

Competitive Interest Rates: Construction financing mortgages typically have competitive interest rates, making them an attractive option for borrowers. 

 

Control: With construction financing mortgages, borrowers have greater control over the project and can ensure that it is built according to their standards and vision.

 
4.How to Apply for a Construction Financing Mortgage
Determine Project Budget: Before applying for a construction financing mortgage, it's important to determine the total project cost and budget accordingly. 

 

Find a Lender: Research and compare lenders offering construction financing mortgages to find the best terms and rates for your circumstances. 

 

Gather Required Documents: To apply for a construction financing mortgage, you will need to provide proof of income, employment status, down payment, and property appraisal. 

 

Get Pre-Approved: Pre-approval for a construction financing mortgage can give you a better idea of how much you can afford and what your interest rate and monthly payments will be.

 

Finalize the Application: Once you've found a suitable lender and property, you can finalize your construction financing mortgage application with the lender.

 
5.Tips for Success 
Plan Ahead: Careful planning and budgeting can help ensure the success of your construction project and reduce the risk of cost overruns or delays. 

 

Work with Professionals: Seek the guidance of professionals such as architects, builders, and lawyers to ensure that your project is built to code and meets all legal requirements.

 

Communicate with Your Lender: Keep your lender informed of any changes or issues that may arise during the construction process to avoid any misunderstandings or delays.

 

Monitor Progress: Regularly monitor the progress of your construction project to ensure it is being built to your specifications and within budget.

 
Contact Capital Mortgages today to learn more about refinancing and how we can help you save money on your mortgage. Our team of experienced mortgage professionals is here to help you navigate the process and to find the mortgage solution that best meets your needs. Whether you are looking to lower your monthly payments, pay off your mortgage faster, or access equity in your home, we can help you explore your options and find the best mortgage solution for your unique situation. So, if you are thinking about refinancing your mortgage in Canada, don't hesitate to contact us today! 
We here at Capital Mortgages in Ottawa look forward to assisting you with all your Ottawa mortgage needs. Contact us today by calling us at: 613-228-3888 or email us direct at: info@capitalmortgages.com
You can use these links to APPLY NOW or CONTACT US.
You can also click here.