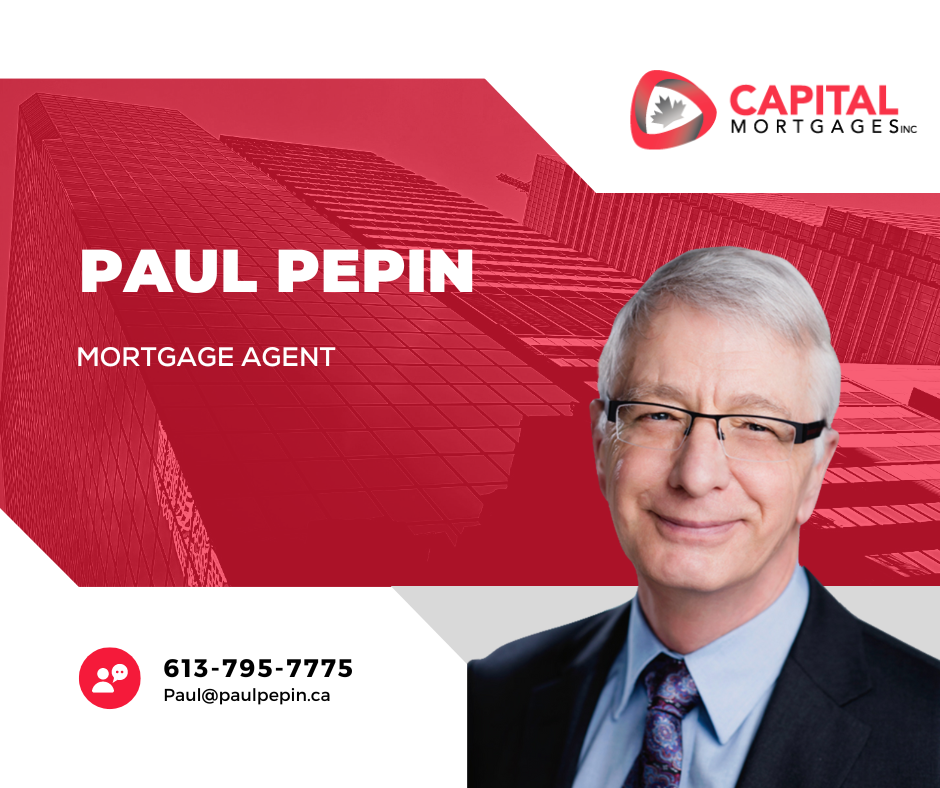 22 Feb

Meet Paul Pepin

Putting YOUR Interest First!
We are living in challenging times. My goal is to make your mortgage financing process as easy and as thorough as possible.  Whether you are buying a new home, refinancing your existing home, or considering an investment property, I can help.  Communication is key so feel free to contact me as early as possible in the process with any mortgage and real estate questions you may have.
Why do I believe I can help find a mortgage solution for you.
I have been a licenced mortgage agent with Capital Mortgages since 2008.  Also, I have been a licenced Realtor (real estate sales representative) since 2015.   So, I have significant experience and knowledge of the Real Estate industry, in the key areas of Mortgage Financing and buying and selling of property.  Prior to 2008 I worked several years as a forensic accountant. So I am comfortable working with people, their goals, and their financial information.
I am also committed to Putting YOUR Interest First.  So, I have a personal interest in finding a mortgage solution that works for you.
Feel free to contact me with any mortgage or real estate questions you or your family and friends may have.  I will be happy to help.
You can call me direct at 613-795-7775 or email me at Paul@paulpepin.ca.
You can also Apply Now for a mortgage at www.paulpepin.ca.  Just click on Apply Now and start your application.
Back to the business…As Your Independent Mortgage Agent, I'm working for you, not the banks. I do business with over 60 lenders. Traditional institutions are concerned with selling only their own mortgage products. Dealing with a multitude of lenders means that I always shop the market on your behalf to find the right mortgage to best meet your particular requirements. Whether it's a residential or commercial loan, I have access to a wide range of services and products to ensure your mortgage needs are met precisely at the most competitive terms and confidentiality and privacy is always assured.
Not convinced yet? Check out my Google reviews! I want to be a part of your next mortgage experience, we'll make it awesome, together! Clients and referrals WANTED. Thanks as always for choosing the Brads Mortgages team.
Why Should You Choose to Use a Mortgage Agent?
My role as a mortgage agent is to act on your behalf. I have your best interests in mind and will find the best mortgage for you. As an independent mortgage agent, I do not work for an individual institution nor am I mandated by any one lending institution. I have a long list of lenders to choose from. My goal is to get you the best possible mortgage that you qualify for through fast, professional, and personal service. From first-time home buyers to seasoned real estate investors, I will take the time to work with you through your individual situation.
I have been working as an agent since 2003 and I have funded over $275 million in mortgages and counting. I fund not only low interest rate mortgages for residential homes; I also fund many different types of properties in the marketplace. I also fund mortgages across the country should you choose to purchase out-of-province. Residential or commercial, there is a mortgage for you!
Why Choose Capital Mortgages?
I work as a mortgage agent with Capital Mortgages. Capital Mortgages is one of the largest and most notable Mortgage Brokerage Firms in Ottawa. Capital Mortgages was established in 1999 and is proud to have served thousands and thousands of clients representing over one billion dollars in total mortgage volume.
I save you money by sourcing the best products at the best rates – not only on your first mortgage but through every subsequent renewal.
So whether you're buying a home, renewing your mortgage, refinancing, renovating, investing, or consolidating your debts — I'm the Mortgage Centre mortgage advisor who can help you get the right financing, from the right lender, at the right rate.
Cell: 613.818.1477