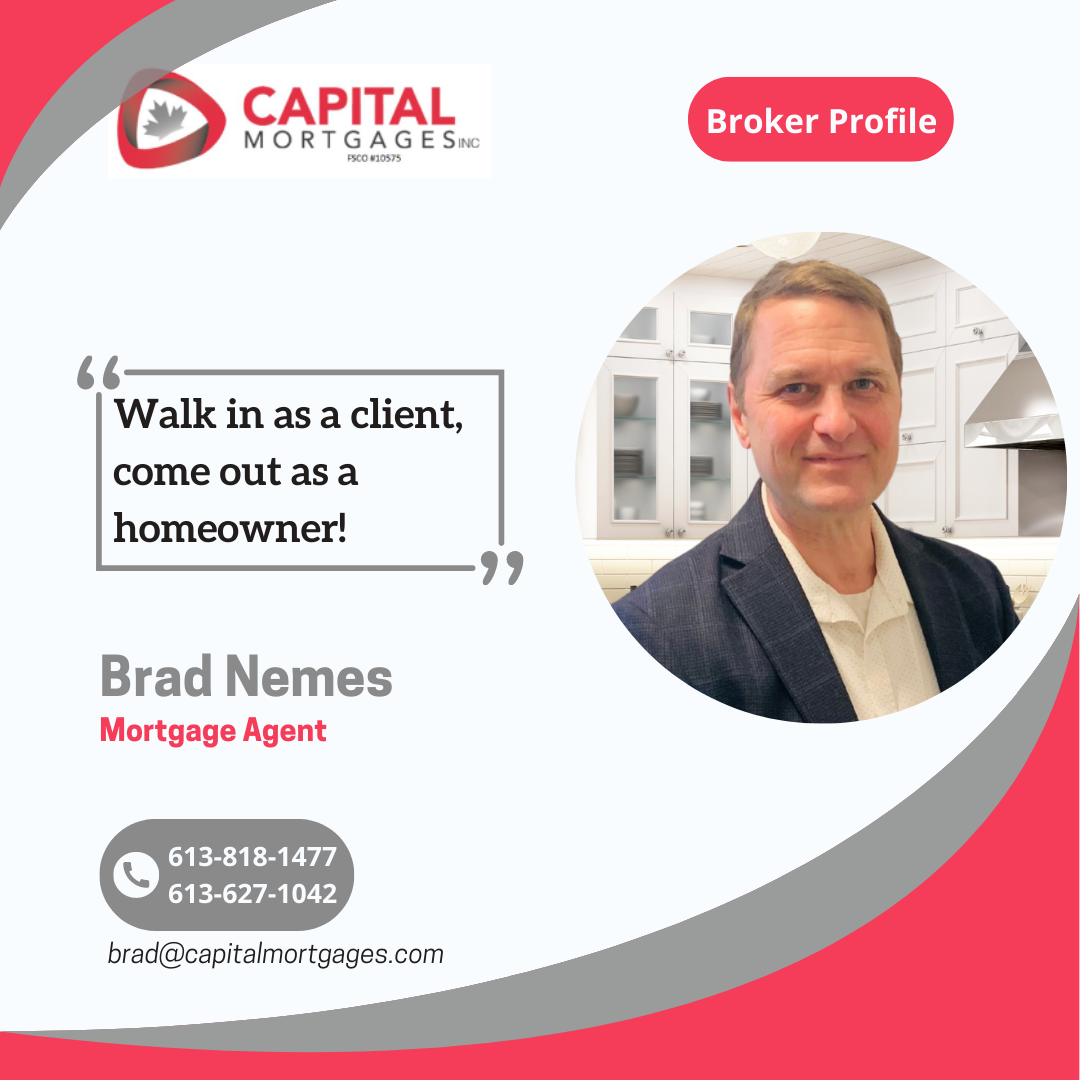 13 Dec

Meet Brad Nemes

Walk in as a client, come out as a homeowner!

Keeping it real (estate) since 2003! Since then, I've funded over $275 million in mortgages and counting. While I always love connecting with new clients, most of my business comes from referral and repeat clients, and I'm always grateful for their support and trust. It shows me that my clients know I care, giving them everything in my power to make their homeownership dreams come true. I solve any problems that might come up and walk you through all of the steps so you can rest easy. Financing a home can be complicated and I love solving complex problems. They make my work interesting and fun!

When I'm not working on helping people with their financing needs, you can find me cycling the many Ottawa paths, hosting wine and food evenings with my friends and colleagues or visiting some amazing local restaurants and cafes. Fun fact – I'm a trained sommelier! After a realtor friend of mine had me host a wine-tasting at one of his open houses he started calling me the Mortgage Sommelier and it stuck. "Som·me·lier: a trained and knowledgeable wine professional, who specializes in all aspects of wine service as well as wine and food pairing." As your "Mortgage Sommelier" I specialize in all aspects of lending, and will pair you with the right products at the right time!

Back to the business…As Your Independent Mortgage Agent, I'm working for you, not the banks. I do business with over 60 lenders. Traditional institutions are concerned with selling only their own mortgage products. Dealing with a multitude of lenders means that I always shop the market on your behalf to find the right mortgage to best meet your particular requirements. Whether it's a residential or commercial loan, I have access to a wide range of services and products to ensure your mortgage needs are met precisely at the most competitive terms and confidentiality and privacy is always assured.

Not convinced yet? Check out my Google reviews! I want to be a part of your next mortgage experience, we'll make it awesome, together! Clients and referrals WANTED. Thanks as always for choosing the Brads Mortgages team.
Why Should You Choose to Use a Mortgage Agent?
My role as a mortgage agent is to act on your behalf. I have your best interests in mind and will find the best mortgage for you. As an independent mortgage agent, I do not work for an individual institution nor am I mandated by any one lending institution. I have a long list of lenders to choose from. My goal is to get you the best possible mortgage that you qualify for through fast, professional, and personal service. From first-time home buyers to seasoned real estate investors, I will take the time to work with you through your individual situation.
I have been working as an agent since 2003 and I have funded over $275 million in mortgages and counting. I fund not only low interest rate mortgages for residential homes; I also fund many different types of properties in the marketplace. I also fund mortgages across the country should you choose to purchase out-of-province. Residential or commercial, there is a mortgage for you!
Why Choose Capital Mortgages?
I work as a mortgage agent with Capital Mortgages. Capital Mortgages is one of the largest and most notable Mortgage Brokerage Firms in Ottawa. Capital Mortgages was established in 1999 and is proud to have served thousands and thousands of clients representing over one billion dollars in total mortgage volume.
I save you money by sourcing the best products at the best rates – not only on your first mortgage but through every subsequent renewal.
So whether you're buying a home, renewing your mortgage, refinancing, renovating, investing, or consolidating your debts — I'm the Mortgage Centre mortgage advisor who can help you get the right financing, from the right lender, at the right rate.
Cell: 613.818.1477
Tel: 613.627.1042