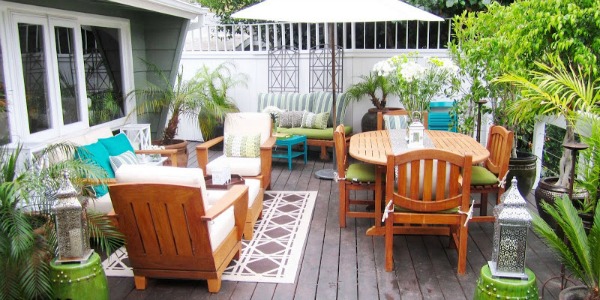 10 May

5 Ways to Update Your Deck this Summer

After a long cold winter, we are finally slowly emerging into the sunshine like butterflies from a chrysalis. The past few days of warm weather and sunshine may have you looking out into your backyard with a critical eye. How did your deck manage through the harsh winter? If your yard is looking less than satisfactory, don't fret — you may only need to make a few small updates to get your deck looking and feeling summer ready. Here are a few top expert tips:
1) Stain the wood
Is your deck looking a little tired and worn after the winter? Treat the wood to a fresh new stain and have it looking back to its old self in no time! A penetrating weatherproofing stain will also protect the wood from future bad weather.
2) Get an outdoor rug
Perhaps the snow and ice has your deck looking a little weathered. If you don't have the time to treat or paint the wood, pick up a bright and colourful outdoor rug instead! It's a quick and affordable update that really makes a difference.
3) Add some planter boxes
Want to add some lush colour to your deck? Get a couple of planter boxes to hang on the railing for an instant splash of colour. If you're a keen chef, planter boxes are also great for growing herbs!
4) Create a shady spot
It's fantastic if your deck gets a lot of sun, but sometimes the heat can be a bit much. Create a shaded spot for eating, reading, or relaxing by adding a gazebo, pergola or patio umbrella.
5) Update your outdoor furniture
Are you still using the same outdoor furniture that you've had for years? It may be time for a change! Update your deck with some relaxed seating, perhaps a couple of benches or some comfy chairs, complete with colourful outdoor cushions to make your deck a stylish and cosy place to hang out.
Are you looking to build the backyard deck of your dreams? A refinance of your current mortgage could be the way to make that happen. Refinancing is a strategic financial decision that is applicable in a variety of situations and may require an advisor to ensure the best solution is found to fit your specific needs. Don't hesitate to contact the team at Capital Mortgages today!