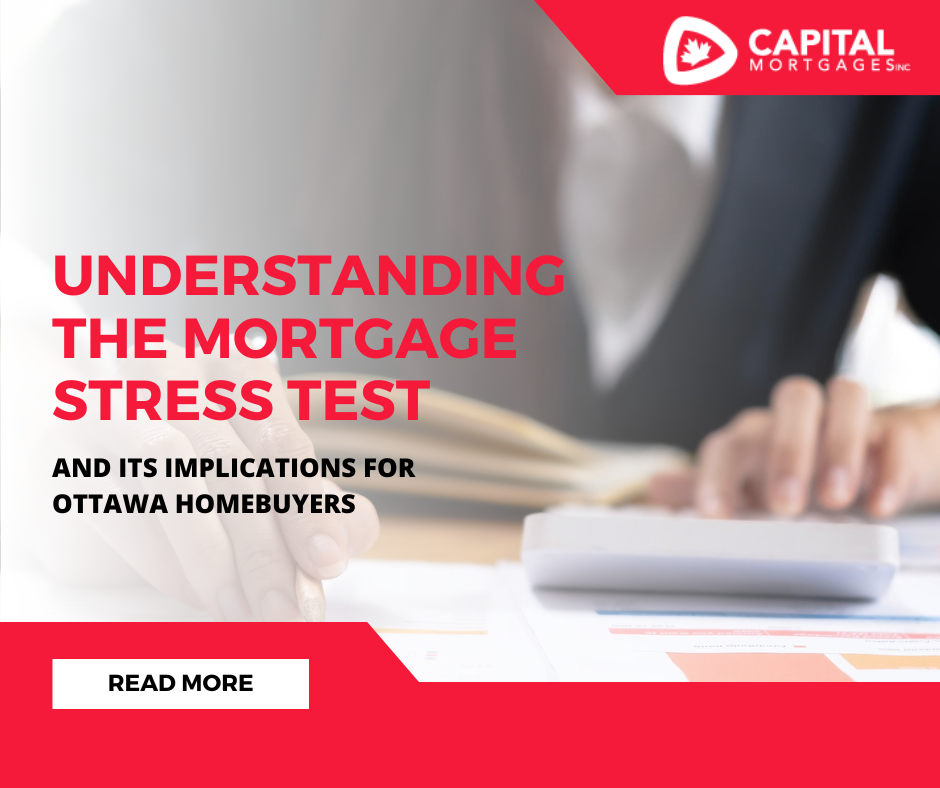 24 Sep

Understanding the Mortgage Stress Test and its Implications for Ottawa Homebuyers 

The Mortgage Stress Test: it sounds like a rigorous physical examination, doesn't it? However, it's actually a financial benchmark designed to ensure Canadian homebuyers can afford their homes, even if interest rates rise. While this test affects homebuyers across the country, in the dynamic Ottawa market, it has its own unique implications. 
What is the Mortgage Stress Test?
At its core, the Mortgage Stress Test (MST) was introduced by the Office of the Superintendent of Financial Institutions (OSFI) to safeguard the Canadian housing market from borrowers taking on more debt than they can handle. 
Before getting a loan, borrowers now need to qualify at a rate that's higher than their contracted mortgage rate. This "stress test" rate is either the Bank of Canada's five-year benchmark rate or the rate offered by your lender plus 2% – whichever is higher. 
Why was it Introduced?
The primary purpose of the MST is risk management. With memories of the 2008 global housing crisis and subsequent recessions, Canadian policymakers wanted a buffer. They wanted to ensure that, even if rates rise or a borrower's income decreases, homeowners wouldn't default on their loans. 
Implications for Ottawa Homebuyers
More Challenging Pre-approvals

: With the stress test in place, some Ottawa homebuyers may find they qualify for a smaller loan than they anticipated. This might mean setting sights on a different neighborhood or considering a slightly smaller home.

 

Competitive Market Adjustments

: The Ottawa housing market, known for its steady growth, may experience a slower pace of price growth as some buyers are sidelined by the MST. This could lead to more balanced buying conditions.

 
Potential for Alternative Lenders

: Those who don't pass the MST with traditional banks might seek alternative lenders, like credit unions, who aren't always required to use the stress test. However, this often comes at the price of higher interest rates.

 

Encouraging Financial Prudence

: On the positive side, the test might encourage potential homeowners in Ottawa to save more for a down payment, reduce other debts, or reconsider their budget to ensure they can truly afford the home they're interested in.

 

Impact on Renewals and Refinancing

: For those Ottawa homeowners looking to renew or refinance, they won't need to pass the MST if they stay with their current lender. However, shopping around might become a bit more challenging.

 
Conclusion
The Mortgage Stress Test, while a source of frustration for some, is designed to protect Ottawa's homeowners from potential future financial hardships. Homebuyers in the city should approach the test as an opportunity to critically evaluate their finances and ensure they're making sustainable long-term decisions in one of Canada's most vibrant real estate markets. As always, consulting with a knowledgeable mortgage broker in Ottawa can provide valuable insights and strategies for navigating the current landscape. 
Contact Capital Mortgages today to learn more about refinancing and how we can help you save money on your mortgage. Our team of experienced mortgage professionals is here to help you navigate the process and to find the mortgage solution that best meets your needs. Whether you are looking to lower your monthly payments, pay off your mortgage faster, or access equity in your home, we can help you explore your options and find the best mortgage solution for your unique situation. So, if you are thinking about refinancing your mortgage in Canada, don't hesitate to contact us today! 
We here at Capital Mortgages in Ottawa look forward to assisting you with all your Ottawa mortgage needs. Contact us today by calling us at: 613-228-3888 or email us direct at: info@capitalmortgages.com
You can use these links to APPLY NOW or CONTACT US.
You can also click here.