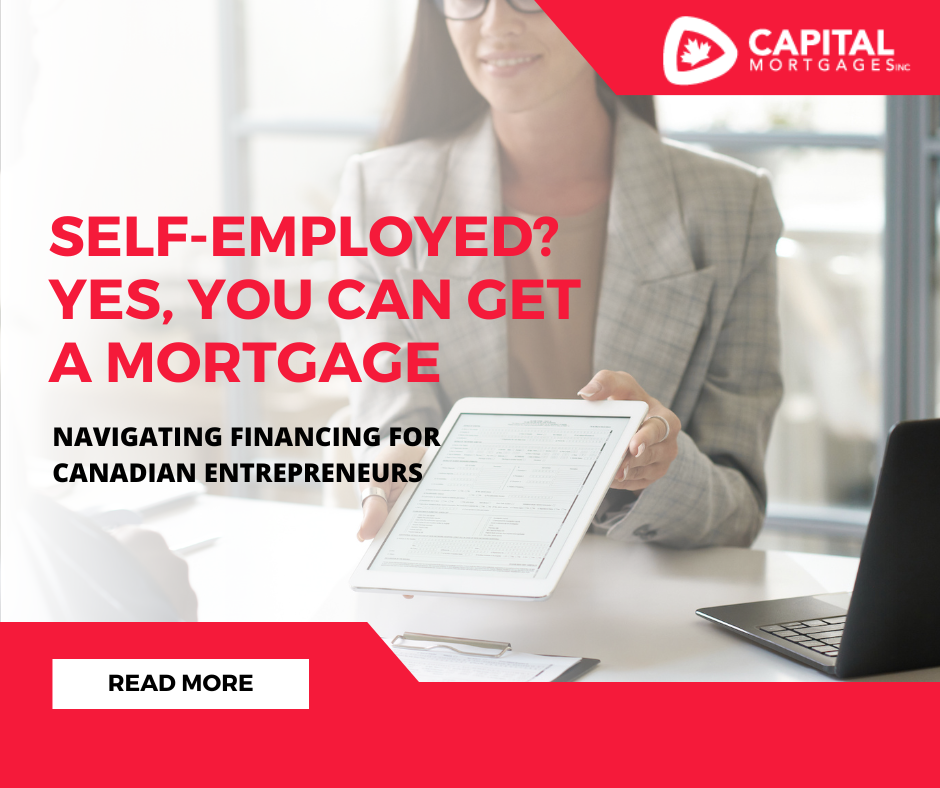 22 Aug

Self-Employed? Yes, You Can Get a Mortgage: Navigating Financing for Canadian Entrepreneurs

As a self-employed entrepreneur in Canada, you've embarked on a rewarding journey of building your own business. Now, you're ready to take the next step and invest in your dream home. Despite the common misconception that obtaining a mortgage is difficult for self-employed individuals, this blog will show you that it's indeed possible. Let's explore the ins and outs of securing a mortgage tailored to the unique financial situation of Canadian entrepreneurs. 
The Self-Employed Mortgage Landscape for Canadian Entrepreneurs:

 
Understand the challenges self-employed individuals might face when applying for a mortgage and why some lenders might be hesitant. Uncover the reasons behind the misconceptions and learn how you can overcome them. 
Alternative Income Assessment for Canadian Entrepreneurs:

 
Unlike traditional employed individuals, entrepreneurs may not have a consistent salary. Discover the various ways lenders can assess your income, taking into account business profits, tax returns, and other financial documents. 
Building a Strong Financial Profile:

 
Explore essential strategies to bolster your financial profile as a self-employed individual. From maintaining a healthy credit score to organizing financial records, these steps can increase your chances of mortgage approval. 
Specialized Mortgage Options for Canadian Entrepreneurs:

 
Learn about specialized mortgage products designed specifically for self-employed individuals. These options cater to your unique needs and circumstances, offering flexibility and attractive terms. 
Engaging a Mortgage Advisor:

 
Find out how working with a mortgage advisor experienced in handling self-employed clients can make a significant difference in the mortgage application process. Their expertise can help you navigate potential hurdles and secure the best mortgage option. 
Conclusion of Navigating Financing for Canadian Entrepreneurs 
Canadian entrepreneurs, rejoice! Securing a mortgage as a self-employed individual is entirely feasible. By understanding the nuances of self-employed mortgage financing and leveraging specialized options, you can turn your dream of homeownership into reality. Remember, working with a seasoned mortgage advisor can be a game-changer, ensuring you find the ideal mortgage that aligns perfectly with your entrepreneurial journey. 
Contact Capital Mortgages today to learn more about refinancing and how we can help you save money on your mortgage. Our team of experienced mortgage professionals is here to help you navigate the process and to find the mortgage solution that best meets your needs. Whether you are looking to lower your monthly payments, pay off your mortgage faster, or access equity in your home, we can help you explore your options and find the best mortgage solution for your unique situation. So, if you are thinking about refinancing your mortgage in Canada, don't hesitate to contact us today! 
We here at Capital Mortgages in Ottawa look forward to assisting you with all your Ottawa mortgage needs. Contact us today by calling us at: 613-228-3888 or email us direct at: info@capitalmortgages.com
You can use these links to APPLY NOW or CONTACT US.
You can also click here.