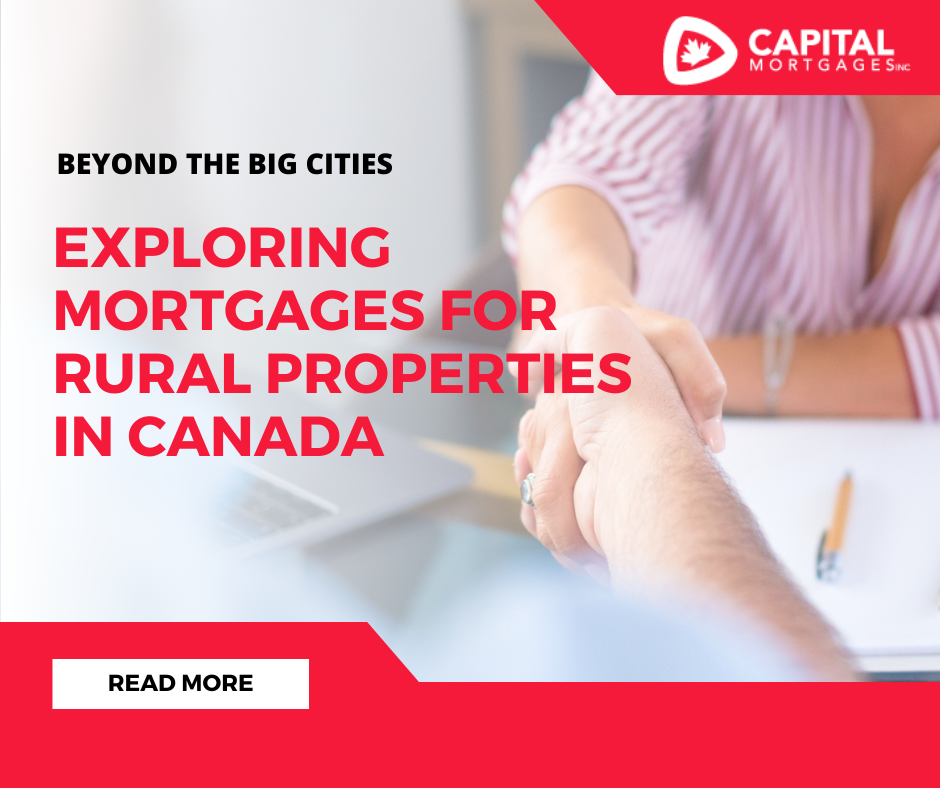 08 Aug

Beyond the Big Cities: Exploring Mortgages for Rural Properties in Canada

In the vast and beautiful landscape of Canada, rural living has a unique appeal for those seeking tranquility and a closer connection to nature. If you've been envisioning your dream home in the countryside, this blog will be your comprehensive guide to understanding the nuances of securing a mortgage for rural properties. 
The Allure of Rural Properties in Canada:

 
Discover the undeniable charm of rural properties, from picturesque landscapes to the strong sense of community. We explore why more Canadians are embracing the idea of owning a piece of paradise away from the urban bustle. 
Financing Challenges and Considerations:

 
Rural properties often come with unique financing challenges, such as septic system assessments and water source verification. Gain insights into these considerations and learn how to navigate them effectively. 
Specialized Lenders for Rural Properties in Canada:

 
Explore mortgage options from lenders who specialize in rural properties. These institutions offer tailored solutions to accommodate the distinct needs and characteristics of country living. 
Government Initiatives and Grants:

 
Find out about government programs that promote and support rural homeownership. Learn how these initiatives can make your dream of owning a rural property more accessible and financially feasible. 
Expert Tips for a Smooth Purchase Process in Rural Properties in Canada:

 
Gain valuable advice from real estate professionals and mortgage advisors who are well-versed in the intricacies of rural real estate transactions. Their insights will help you navigate the purchasing process with confidence. 
Conclusion
Embrace the tranquility and charm of rural living in Canada by understanding the ins and outs of securing a mortgage for your countryside retreat. Whether you seek a serene weekend getaway or a permanent residence away from the city, this blog equips you with the essential information to make your rural homeownership aspirations a reality. Join us as we explore the joys and challenges of rural living in Canada! 
Contact Capital Mortgages today to learn more about refinancing and how we can help you save money on your mortgage. Our team of experienced mortgage professionals is here to help you navigate the process and to find the mortgage solution that best meets your needs. Whether you are looking to lower your monthly payments, pay off your mortgage faster, or access equity in your home, we can help you explore your options and find the best mortgage solution for your unique situation. So, if you are thinking about refinancing your mortgage in Canada, don't hesitate to contact us today! 
We here at Capital Mortgages in Ottawa look forward to assisting you with all your Ottawa mortgage needs. Contact us today by calling us at: 613-228-3888 or email us direct at: info@capitalmortgages.com
You can use these links to APPLY NOW or CONTACT US.
You can also click here.