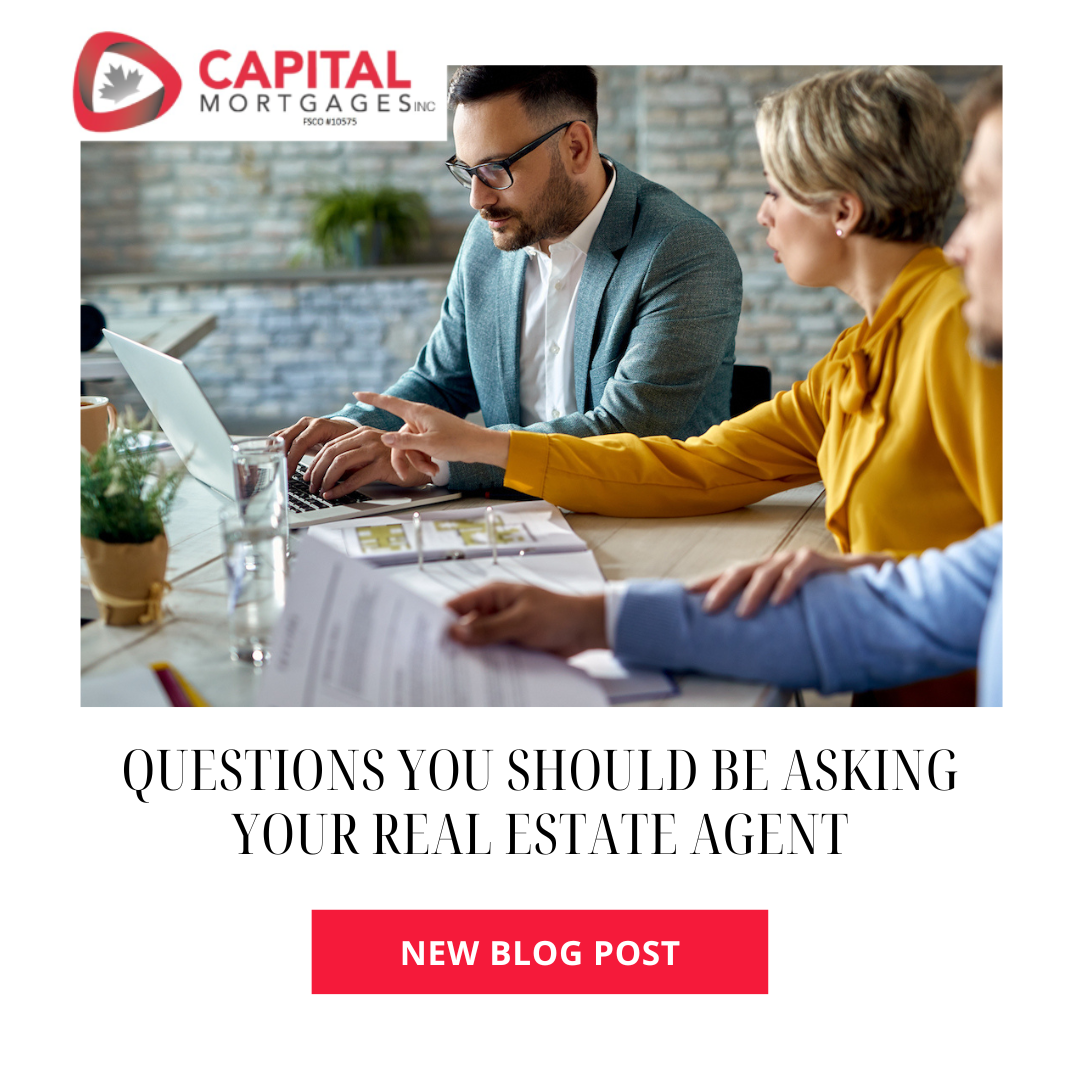 14 Oct

Questions You Should Be Asking Your Real Estate Agent

When buying a home, the process can seem overwhelming with so many details to keep track of. Putting your trust in an agent can be scary, but they are there to help you navigate the process and find the home of your dreams. A real estate agent is an important part of buying a home, but it's up to you to make sure that you're getting the most out of their services. With all the pre-qualifying, showing, and open house appointments, it may feel like your agent is just another set of eyes on properties. But they're much more than that. An experienced real estate agent will know what markets are hot and where you need to focus your search. They should also be able to advise you on everything from mortgage rates and loan qualifications to zoning laws and local real estate trends.
Ask these 7 questions before hiring your real estate agent.
Now, as you look for a real estate agent to help you purchase a home, here are some questions you should ask them to make sure they're the right fit for you.
– How long have you been an agent?
– How many homes have you sold in the last year?
– Tell me about a sale that you're particularly proud of.
– What are your top three neighborhoods in the area?
– What's your experience with first-time homebuyers?
– What is your approach to negotiating with sellers?
– What do you like most about your job?
Why is this property available?
While it's great that you found a perfect place, it's important to understand why it's on the market in the first place. A seller may be eager to get a deal done or it could be a sign of problems with the property that you may be responsible for fixing. The seller's motivation may affect your offer. If they're in a rush to sell, they may be more likely to accept a lower offer. On the other hand, if they're just trying to clean out a family member's old property, they may be open to a higher offer to get it off their hands. This can be helpful to know if multiple offers come in on the same day.
How much is the seller willing to negotiate?
The seller's asking price isn't set in stone. It's important to ask your agent what the seller is willing to negotiate. This can help you make a stronger offer on the property, since you know how far you can go. You can also use this information to decide how low you're willing to go if you end up with multiple offers. Homes that don't receive any offers often sit on the market for a long time, which means the seller may be willing to come down in price, because they're eager to get a deal. On the other hand, a seller who has several interested buyers may not budge on price, even if they're eager to sell.
What repairs does the home need?
If the property you're looking at is in need of repairs, it's important to understand what the costs are likely to be. These costs won't be something you can ignore once you're living in the house. Instead, they can add up over time, and some repairs may even be considered a health and safety hazard. If the seller doesn't disclose the repairs, you may have to foot the bill, potentially costing you tens of thousands of dollars. Ask your agent to walk through the property and make a list of what repairs it needs. This is also the time to talk about permits. Even if the repairs are minor, you may need to apply for a permit before doing any work, depending on the type of repair. This can add a lot of time to the process, so it's better to find out about it before you buy.
What's your estimate for the cost of renovations?
It's easy to get carried away in the excitement of buying a home, especially if it's a fixer-upper. Before you get too attached, you should talk to your agent about the costs of renovations. This is also a good time to ask for contractors' references, so you can find out what others think of the work they do. Sometimes, sellers will pay for the renovations, or you may be able to get a loan that allows you to roll the costs into the mortgage. Otherwise, you'll need to come up with the money before closing. This can be a risky move, since you're putting yourself at risk for being out of a large sum of money before you even own the home.
Why is this neighborhood a great place to live?
Every neighborhood has its pros and cons, but they're all made up of people. This means that some areas have great schools, while others have higher crime rates. Knowing why a neighborhood is a great place to live can help you decide if it's right for you and your family. If you're open to living in a different neighborhood, your agent can help you find the best places to look. If you're particular about where you want to live, your agent can help you understand the trade-offs of each neighborhood.
Is there anything that you wouldn't change about this property?
No property is perfect, but you can still find something that you love about the place you're considering buying. This is a great way to get to know the property better. Even if you don't love everything about the property, this can help you narrow down your search to the best option. Even if you can't find something you don't like about the property, your agent will be happy to hear it. They want to find the best property for you and may try to steer you away from places that lack one of your big must-haves. This is also a good time to ask your agent to walk you through their sales process.
Summing up
Buying a home is a big decision, and it can be easy to get caught up in the details. Talking to an agent can help you take a step back and look at the big picture. They can help you understand the best neighborhoods, the types of houses on the market, the amount you can afford to spend, and how to get the best deal on a home. Working with an agent will help you feel more confident and knowledgeable about the process.
We here at Capital Mortgages in Ottawa look forward to assisting you with all your Ottawa mortgage refinancing needs. Contact us today by calling us at: 613-228-3888 or email us direct at: info@capitalmortgages.com
You can use these links to APPLY NOW or CONTACT US.
You can also click here.