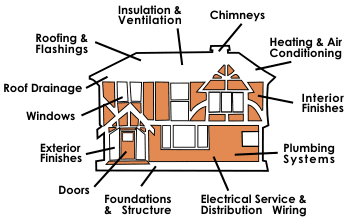 27 Oct

Things to Check Out Before Buying a Home

It is extremely important to inspect a house well before signing the papers. This is to assure you that it is free from any damage and unforeseen expensive repairs. Costly repairs that were not in your budget even though any new house sometimes requires a few cosmetic changes.

Here's a few things you should check to avoid the inheritance of the previous tenants past problems.

Check all the drains well: Hard to notice drain damage that occasionally occur between the house and the sewer line. It is only spotted when different chores that use water are carried out. Such as when laundry and washing of dishes are done at the same time since so much water will not drain at the same time.

Open wide all the windows: Check all the windows in the house whether they are on the right shape. Make sure that they open correctly and do not need any kind of replacement or repair.

Open all the Faucets: It is a simple fix to change out a faucet but just confirm whether they all work and there is no water damage under sinks and pipe areas.

Light a Fire in the Fireplace: Although most chimneys are professionally installed, you should light a fire to verify if all the fireplaces draft correctly. Not all fireplaces are in pristine shape.

Have a taste of the water: Pipe water is not always clean. You need to know where the water is coming form and how it is maintained. This will help you be aware of any need of a whole house filter installation.

Use the toilet and flush: There is nothing worse in a house than the blockage of a toilet. Confirm whether the toilet can handle toilet paper and flush well although they are easy to replace and fix.

Open the electrical panel: Make sure that panels are clean and labeled. Do not buy a home with shoddy electrical work or loose wires which are not connect to anything. This is a signal that there are live wires in the walls.

Turn on the heat/air: It is important to have heat/air conditioner that work well. Check whether they are in good working condition when turned on.

Pull the Carpet Back: Check below the carpet whether there is a hardwood floors or any mold. Look on all corners of the lowest side of the room. Most homeowners' remove the carpet to allow the buyer see the condition of the floors below.

Basement dampness: Look for dampness.

If you check all these and more with a qualified home inspector, then you are guaranteed peace of mind and possibly a home with little to no repair expenses allowing you to fully enjoy your new home when you move in.