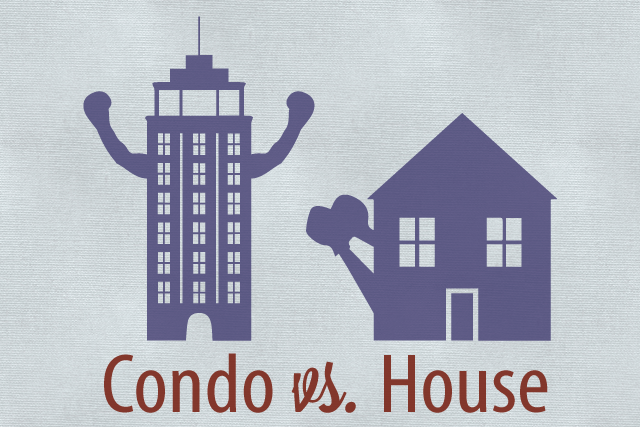 16 Dec

Looking To Buy? House vs Condo

For decades, home ownership has been part of goals, political campaigns and ultimate sign of success for many families. The standard of a two car garage and a back yard defines the characteristics. Today though, there is a large and growing market for other types of residences, specifically condominiums. If you are looking to buy? house vs condo is a significant question.

History has supported the idea that owning a house is the ideal. Buyers own the structure and the land on which it sits. Before making such a monumental decision, buyers should consider alternatives that may be a better fit for the personality and lifestyle. Here are some factors to consider.

When you purchase a house, there is a lot of freedom to make decisions, as long as they don't conflict with the bylaws of the community in which you live. You can choose the color and the design of the landscape. Owners are free to be as independent as good taste and the budget will permit. Homeowners must be able to do maintenance and repair work. They must have the budget to afford upkeep and repairs. A home owner wants and enjoys privacy.

The downside of the freedom that comes with house ownership is the cost. Repairs and maintenance costs money. The responsibility of taking care of faulty roofs or plumbing falls on the homeowner.

Choosing a condominium has advantages for another group of buyers. If you want a turnkey lifestyle, a condominium may be the answer. Buyers might be unable to perform maintenance tasks or may be very busy so that mowing the lawn is low priority. There are amenities that come with many if not most condos that are great perks. These might include party rooms, gyms, and pools. Life in a condominium is easy and fun. Buying a condo provides a living space that is move-in ready.

The options available with a condo come with a price. There can be sizable monthly maintenance fees. Someone has to pay for the amenities and service. Another negative aspect for some is the high density of people in a small area. There may be hundreds of neighbors, rather than only a few. Making the important decision of the type of ownership is easier today, thanks to the many options. So, if you are looking to buy? House vs condo is the decision that requires consideration of preferences and lifestyle.